Christmas Cards for Clients and Customers: The Benefits
The simple act of sending a corporate Christmas card to customers and clients is a highly cost-effective way of raising brand awareness. It brings your brand or business to the forefront of people's minds at this special time of year.
A card is a physical symbol of your presence in the marketplace. In this age of digital communication, it is an increasingly valued gesture.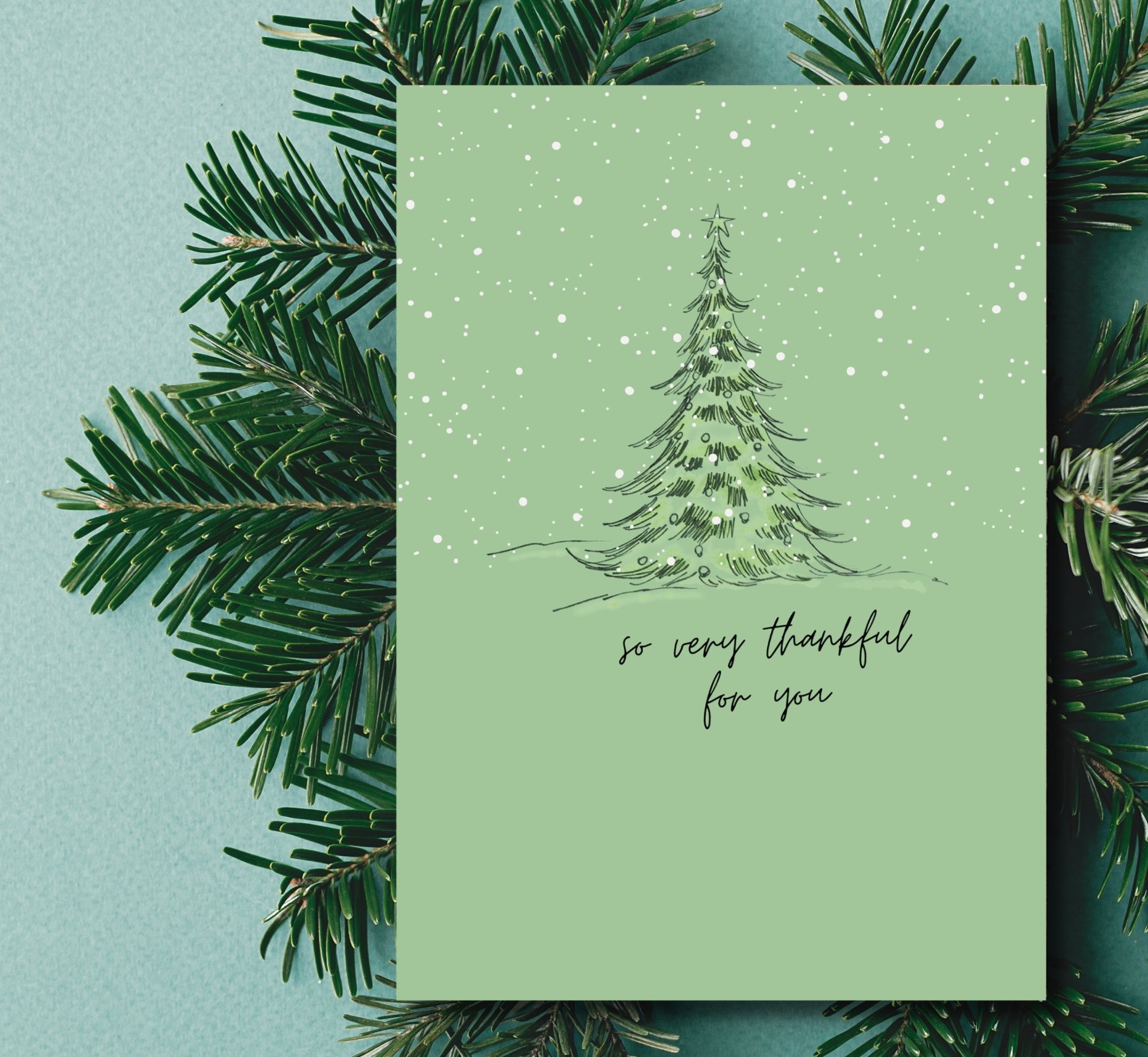 Here are some of the main reasons why your business should invest in branded, Christmas cards for customers and clients and why they will work so well for you.
To Maintain Existing Relationships
Strong customer relationships underpin every successful business venture.
Yet, as with personal relationships, they take time to establish and need to be constantly cultivated and nurtured.
Healthy client relationships produce loyal clients who make repeat purchases. They also lead to positive word of mouth referrals leading to increased sales.
All of this is vital for business success in this highly competitive environment.
While client relationships take time to build, conversely, they can deteriorate rapidly if the client starts to suspect that they are not valued by a brand or business.
Constant reassurance is required and every client needs to feel that they are uniquely important to your business.
A personal Christmas card is a tangible way of demonstrating that you continue to be grateful for their long-established custom and that it is not something that you take for granted.
After all, you have taken the time to , order, sign and send them a card.
To Acquire New Clients & Customers
The most effective marketing techniques have very little to do with hard-sell tactics.
In fact, in-your-face and aggressive marketing is often off-putting and counter-productive. More subtle approaches build trust amongst potential customers.
The problem is that your competitors are also trying to get noticed by the same customers, so you need something to make your brand stand out from the crowd. 
Prolonged Engagement

Customers spend a lot longer opening and reading a Christmas card than they will reading an email or browsing a web page.

Something To Touch

A physical product that is a tangible symbol of your brand, delivered directly into your potential customer's home.

Brand Awareness

An ongoing symbol of your brand that is displayed for several weeks. In contrast, it takes just a fraction of a second to delete an email.
Christmas cards can be used alongside your existing marketing efforts. Try to be innovative and think outside the box. Its a perfect time of year to engage with your customers in a fun or festive way. Aim for maximum impact and stand out from the crowd.
How Christmas cards can be used to help sales...
Send them to those important LinkedIn contacts

Deliver them to significant clients of your competitors to remind them of who you are

Give them to your sales team to send to contacts made at networking events over the previous year

Send them to influencers and other people who engage regularly with those who buy from you

Post them to bloggers, journalists and PR professionals who can help you to gain exposure for your brand in the coming year

Send them out to buyers and stockists who could run your products on their lines next year
You can add direct marketing to your cards...
The sheer versatility of business Christmas cards is such that you can add more direct marketing strategies if you wish.
Along with a traditional Christmas message, your card can include a discount code or a CTA (call to action) to tie in with a wider marketing campaign.
Use this code to get 25% Off your next order
We wanted to wish you a happy Christmas and to say come visit the site 'Sale Now On!'
Psst… don't forget to come visit us for our January sale. Begins 01/01/24
Merry Christmas – See you on Boxing Day – Here's 40% OFF your first order
Christmas is the season of goodwill and the ideal opportunity to thank your existing clients for their custom over the last 12 months.
The exact words that you use to thank your customers will depend on your target market.
However, the underlying message will always be the same. It will demonstrate that you appreciate their custom and that you are looking forward to continuing to serve them in the coming year.
It can include a personal message about your business and any future plans that you have. It can build excitement for up-and-coming campaigns.
Above all, it should focus on passing on your best wishes to your clients and wishing them well at this special time of year.
To Share News Of Your Success
Successful businesses attract more customers. Everyone wants to be a part of it.
A business Christmas card can be a highly effective vehicle for spreading the word about how well your business is doing.
This works particularly well in service industries where you can show that your success is directly linked to the high standard of your services.
The company Christmas card can be a celebration of your success and, at the same time, it can make your clients feel that they are a part of it.
Make your success their success! Here's some ways you can do that...
Describe your collective efforts to raise money for charity and report on how it went

Report how their business has led to you taking on new employees

Tell them about your great new offices and how their custom has helped you to achieve this business goal

Speak about how your hard work for them has helped them grow and be successful

Share news of any industry awards or accreditations by leading governing bodies you have newly acquired

Acknowledge their crucial role in any successful joint project(s)
Other considerations to make...
Be upbeat and only speak about positive things

Very rarely talk about monetary benefits on Christmas cards. Unless it is connected with how they have benefited financially

Try get your tone of voice, company ethics, the culture that your clients are used to seeing into your card design
Christmas Cards add a Personal Touch
Many businesses provide products and services entirely remotely and online.
The COVID-19 coronavirus pandemic has accelerated the move to use online methods of communication between businesses and clients.
In many sectors, face-to-face meetings have been replaced with phone calls and video meetings. This can leave a deficit in communication and a lack of personal touch.
In the age of digital communication, they are a tangible product that provide a physical representation of your brand.
This personalized gesture can go a long way to establishing a connection to your brand and will make your clients and customers feel that they are uniquely appreciated. 
Use personal written signatures not printed signatures

Get the whole team to sign them and if possible, ask each to leave a personal message

Ensure that the signature is made by the member of staff that has day to day contact with the client

Include additional personal touches such as team photos, inside jokes, references to shared likes, projects etc.
As Part of a Wider Marketing Campaign
Whilst Christmas cards should not be overtly commercial in nature, there is no reason why they cannot form a useful part of a wider marketing campaign.
In fact, branded Christmas cards can be a highly innovative marketing strategy and can drive a significant increase in sales.
The card itself is the beginning of a story, a gateway to something more compelling.
Add a discount code to the back to give a bonus to each recipient

A printed raffle number with a prize draw

A QR code that links to your social media profile

A QR code that links directly to your charity for people to donate

A QR code linking to a webpage or video that tells the story of your charity contributions or how your business has supported the local community

QR code or web link to run a lucky dip sending users to a random page where they can win a prize or competition
The only limit is your imagination!
It is also very useful to tie in your Christmas card deliveries with email campaigns as well as TV and radio ads.
They can combine to keep your brand at the forefront of your customers' and clients' minds during this important time of year.
Each strand of the campaign plays an important role in promoting your brand.